< Previous page | Navigation - Mystery Mind Maze Map | Next page >
Exit Mystery Mind Maze to Sonic Freedom Home
Surprise! just a photo on this page..plus a special message.
(i bet there's more music to discover :) Enjoy Enjoy Enjoy!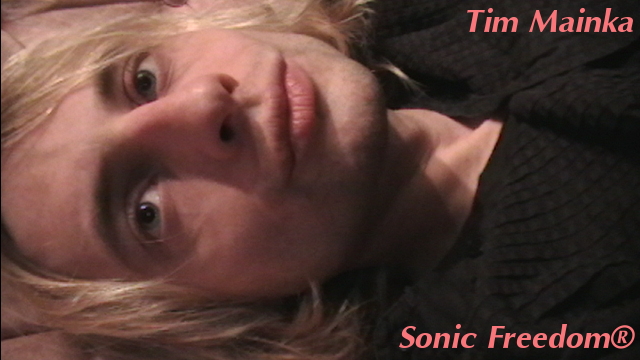 Guess what!?

Bonus today qualifies you for:

5 Pack Super Sonic Freedom Surprise of
Hot FREE Mp3 Downloads
(total retail value $11.94, no cost now)

if you enter before midnight today.

Simple as that.
Just enter below.

No spam guarantee. ~Tim Mainka


"Some of the BEST MUSIC I Have heard in a LONG Time,

and I am a Former Roadie for a Band Called Stillwater(Almost Famous) From
Warner Robbins, Ga and we Opened for Skynyard, Allman Bros, Marshall Tucker,
The Outlaws(From Tampa, FLa), and all the Old Southern Style Rock Groups of the 70's,

and this Music is so re-freshing and it Rocks BADD @SS---
Keep on Keepin On"

- Fred Evans, McHenry, IL

---

"A
Rock Star"
Rock on Tim!"

- Buddy, MakeAStar.com
Take your next step on this interesting musical adventure to discover what is on the next page...
This is fun!
You can give a tip in the tip can :)
Thanks!
---
Sonic Freedom™ is an officially registered trademark with the US Patent and Trademark Office.All rights reserved. Mystery Mind Maze Map
Privacy Policy | Site Agreement Copyright © Now - Timothy Mainka - Sonic Freedom c/o General Post [Office], Waukesha, Wisconsin [53186] | 616~249.0020
Hear a wide variety of samples from Tim Mainka's first CD at
JustGiveMeSomeTime.com
SonicFreedom.com
Want another BONUS? Also Click —>